No matter what breed of hunting dog you own, hunting vests are an important accessory to consider investing in for them. These vests are used for several different purposes from increased visibility to insulation and physical protection.
Below you'll find some of the best hunting vests for dogs and an overview of the reasons why hunting vests are a good purchase when you're outfitting your hunting dog. Read on to learn more about dog hunting vests and the qualities you should look for in one.
Hiado Dog Reflective Safety Vest
For those hunters looking for a basic hunting vest to increase visibility, the Hiado reflective safety vest is a practical investment. While this safety vest doesn't offer much in the way of insulation or protection from the elements, it's a good choice for dogs that are going to be working in low-light conditions.
Here are some of the best features of the Hiado Dog Reflective Safety Vest:


Decorative paw emblem and stripes in reflective material to increase visibility
Three size options from large to 2XL
Adjustable straps
Bright fluorescent orange design
Durable polyester material
Priced at less than twenty dollars, the Hiado safety vest is on the cheaper end of the spectrum for cost when it comes to dog hunting vests. For hunters in temperate or warm climates who are just concerned with preventing their dog from being involved in a hunting accident or being struck by a car crossing roads on the hunt, this vest is a suitable choice.
Funtone Dog Safety Reflective Vest
The Funtone safety vest is similar in construction to the Hiado vest, and also features a similar color scheme and reflective design. These reflective vests are designed for hunting dogs that are more concerned with trigger-happy hunters than they are with cold and windy weather. While this vest doesn't add much insulation, it is waterproof.
Here are some of the best features of the Funtone Dog Safety Reflective Vest:
Sturdy oxford weave material that is still soft for maximum comfort
Waterproof design to help keep your hunting dog drier and warmer in the field
Simple on-and-off construction allows the vest to be attached and removed easily
Comes in neon orange or neon yellow color options
Six size options from extra small to XXL
The Funtone hunting vest is another vest priced at less than twenty dollars, which means it is an economical option. This also makes it a good choice for dogs that tend to tear up their hunting vests since it can be cheaply replaced if necessary.
Vizbrite High Visibility Safety Jacket
While the Vizbrite high visibility safety jacket doesn't come in as many size options as some of the other hunting dog vests on this list, it features a simple and universal design that conforms well to most dog sizes and body shapes. This vest features reflective stripes at both the neck and across the torso of the dog to improve their visibility in the field.
Here are some of the best features of the Vizbrite High Visibility Safety Jacket:
Thin construction makes this vest suitable for warmer climates
Plenty of velcro to make putting the vest on the dog as simple and secure as possible
Velcro closures are easier for people with fine motor issues to secure than snap closures
Water-repellent design
Flexible material for mobility in the field

At just over eleven dollars, the Vizbrite safety jacket is one of the cheapest jackets on this buying guide. However, it is also one of the less durable models. This jacket may not be able to hold up as well to hunts in heavy brush or brambles.
4LegsFriend Reflective Dog Vest
This reflective dog vest is a bit of a deeper orange color than many of the fluorescent orange hunting vests in this guide, which makes it a good choice for people who might find the brighter shades of hunter orange to be an eyesore. This vest also has a reflective paw print design with reflective trim that can be seen from five hundred feet away.
Here are some of the best features of the 4LegsFriend Reflective Dog Vest:
Soft waterproof material is good for cooler climates
Hassle-free money-back guarantee
Available in small, medium, large, and extra-large sizes
Comfortable lightweight construction won't distract dogs on the hunt
Reinforced stitching for extra durability
Machine washable fabric
At just over fifteen dollars, the 4LegsFriend Reflective Dog Vest is a solid choice on the cheaper end of the spectrum for dog hunting vests. But the extra attention put into this design, such as high-quality velcro and extra stitching, means that it tends to be a bit more durable than some cheaper hunting vests.
SafetyPUP Dog Reflective Vest
SafetyPUP's reflective vest falls in the same category of visibility hunting vests elsewhere on this guide, with a standard hunter orange color scheme and a reflective paw prin emblem at the dog's haunch to increase the ability of hunters to recognize them as domesticated animals even at dawn or dusk.
Here are some of the best features of the SafetyPUP Dog Reflective Vest:
Five size options from extra small to extra large
Dual-sided fabric reduces uncomfortable chafing and irritation on shorthaired dogs
Sturdy design holds up well for large, active hunting dogs
Light fabric is still strong and tear-resistant
Adjustable straps suitable for deep-chested breeds
Strong customer service and support
The SafetyPUP reflective vest is priced at less than twenty dollars, so it's a good purchase for those who are looking for a basic reflective hunting vest for their dog. This type of vest will help you keep an eye on your loose dogs in the field and also helps prevent them from being mistaken for hunting targets.
TOURBON Hunting Dog Waistcoat Vest
This reflective hunting vest is a little more of a simple design than the other reflective hunting vests in this guide, but it is still a good staple for active larger dogs. The low neck design of this vest makes it easy to pair with a leash or harness. The open design in the front of the vest leaves dogs mobile for digging or running head-long into thick brush.
Here are some of the best features of the Tourbon Hunting Dog Waistcoat Vest:
Quick adjusting buckles for easy wear and removal
Water and windproof material
Easy to clean design is good for muddy or wet hunts
No-frills aesthetic for a masculine look
Comfortable, lightweight material prevents the dog from overheating
The TOURBON waistcoat vest costs less than fifteen dollars, so for hunters who are dealing with a tight budget and aren't too worried about cold weather, it's a good all-purpose option. Whether it's for a partridge run or a rabbit hunt, this reflective hunting vest provides a good baseline of protection, especially if you hunt near roadways.
Lion Country Supply Hog Dog Cut Vest
Unlike the reflective vests listed above in this buying guide this hog cut vest from Lion Country is designed specifically for hunting wild hogs. Unlike hunting prey animals, hunting hogs with dogs puts the dogs at direct risk of being attacked by the hog's sharp tusks. When cornered or run down by a pack of hunting dogs, a boar will lash out at the dogs to wound them.
Constructed out of a triple layer of nylon and metal buckles, these hog dog vests are also suitable for hunting dogs that have to go after other medium-sized predators in the field, such as coyotes. Together with a spiked collar to prevent biting at the throat, this vest can provide strong protection against hunted animals that decide to fight back.
Here are a few other great design features of the Hog Dog Cut Vest:
Come in orange and black color options
Comes in a high-neck version for added protection
Available in small, medium, and large sizes for all hunting breeds
This hog dog vest is priced at just over sixty dollars, which puts it in the higher end of the price range for hunting dog vests. But this added price is justified by the protection provided by this vest that isn't provided by more lightweight visibility hunting vests.
Guardian Kevlar Vest by Wild Boar USA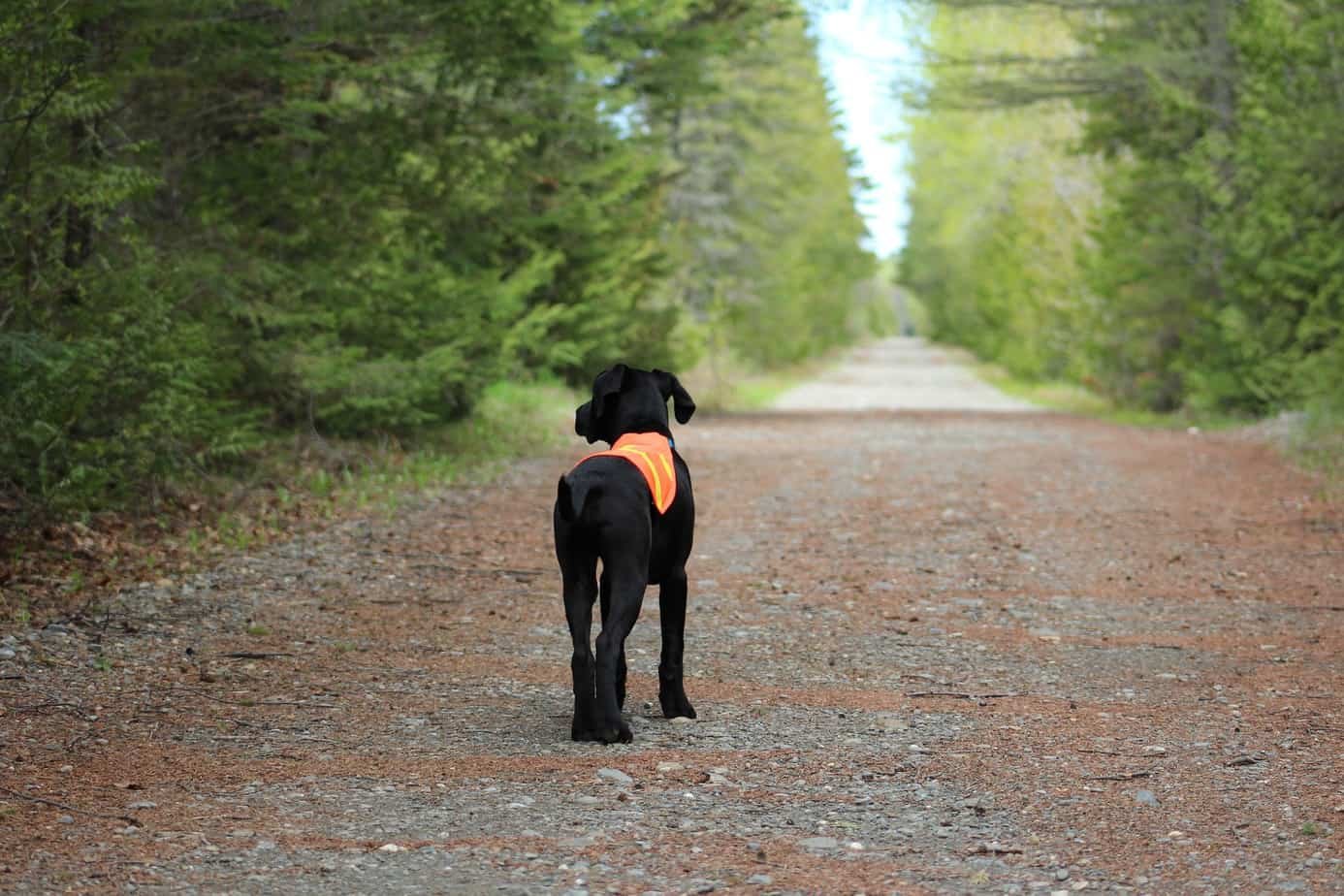 The Guardian Vest is another hog dog vest that is designed to protect dogs from getting attacked by their quarry, and it features kevlar that makes it one of the toughest hunting dog vests on the market. Because it extends protection to the throat and neck as well as the chest, the Guardian vest is useful against all kinds of predators.
Here are some of the other great features of the Guardian Kevlar Vest:
Three color options (forest green, hot pink, hunter orange)
Triple sleeve design to preserve the dog's full range of motion for holding a hog at bay
Stainless steel hardware and buckles designed to last for years
Trauma plates incorporated at the shoulders and throat for added protection
Lightweight design keeps it from overheating dogs in the summer
At almost two hundred dollars, a Guardian vest is one of the most expensive hunting vests you'll probably invest in for your dog. But for hunters who are going up against any prey that likes to fight back, protecting your dog from crippling injury or even death against a boar is well worth the money.
Lion Country Supply Bird Dog Armor 2
Lion Country Supply has several specialized designs for hunting dog vests, and this bird dog armor functions quite differently than the hog dog vest showcased above. Instead of focusing protection at the front at the neck and chest area, bird dog armor wraps protection around the back and sides of the dog to prevent them from getting cut and snagged in heavy brambles.
Bird dogs are required by their work to throw themselves headlong into sharp twigs and thorns, so they need thick material to guard against injury. While the Bird Dog 2 model is designed for colder weather, there is also a more lightweight version called Bird Dog Armor 1 that is also a good option for bird-dogging in warmer climates.
Here are some of the other features you'll find on Lion Country's Bird Dog Armor:
Dense material holds up to harsh upland brush
Bright hunter orange design increases visibility while it protects
Reflective stripes add protection against nearby traffic and other hunters
Adjustable straps increase fit comfort and prevent the vest from bunching up
The bird dog armor at Lion Country is around thirty-five dollars, which makes it a mid-range option for hunters who want their dog to have added visibility, but are also willing to pay for some added protection against the field too.
Mendota Wetlands Camo Canine Field Jacket
Unlike other hunting vests in this guide that are geared towards dry brush hunting, this field jacket from Flush and Point is made for water dogs and features an extra layer of insulation to help keep dogs warm even after they spend time in a pond or lake.
Unlike hunter orange visibility jackets, this jacket has a camouflage pattern to help dark or solid-colored retrievers blend in more easily.
These are some of the best features of the Mendota Wetlands Camo Canine Field Jacket:
Made of water-resistant cordura nylon
Rip-resistant inner lining for additional insulation and protection
Four size options from small through extra-large
Material will not absorb moisture
Durable design with quilted stitching for multiple seasons in the field
At a little under fifty dollars including free shipping, the Mendota canine field jacket is great for labradors and other water dogs who need a bit of added protection from the elements while they're out in the blind.
DU Jacket by Mud River
For another option with wetlands camouflage built in, this dog jacket by Mud River is perfect for water-based hunting trips in colder climates. The DU jacket is made of high-quality materials that are designed for durability and has several extra features that are useful for duck dogs.
Here are some of the features of the DU jacket that make it a great hunting vest:
Nine-millimeter neoprene design for water repulsion and heat retention
Double-tacked seams add reinforcement to the stitching so that repeated exposure to water doesn't swell the material and cause the vest to stretch
Tapered cut fits most dog body types well
Velcro zipper cover for keeping the jacket's zipper clear of ice, weeds, and other debris
D-ring attachment for adding a leash
Vests on jacket back for easily lifting the dog in and out of boats or hunting stands
Ducks have excellent vision, so dogs used for hunting waterfowl need camouflage as much as they need protection from the elements.
Types of Hunting Vests for Dogs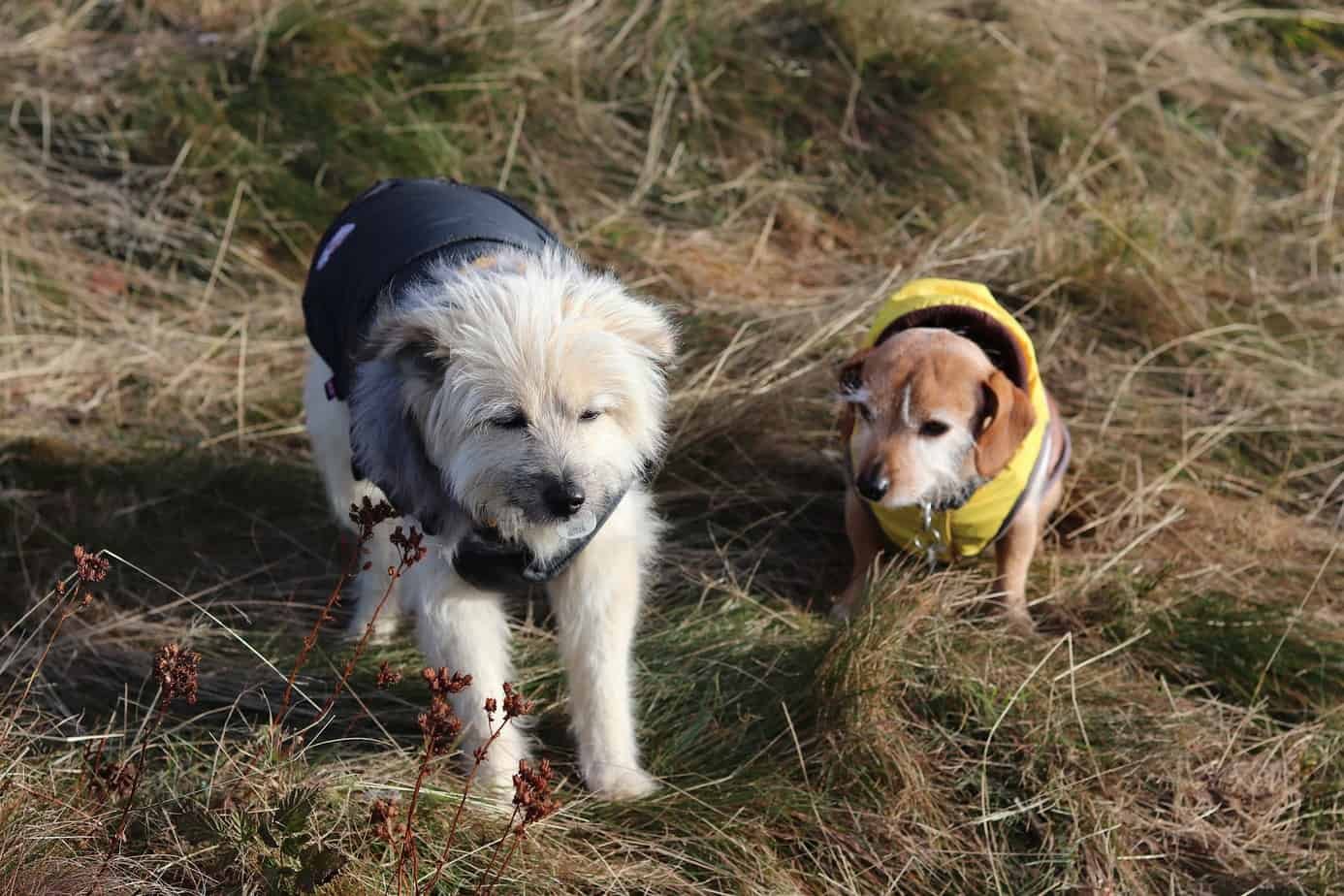 When you shop for hunting vests for your dog, you'll generally see them broken into a few major sub-categories. Here's an overview of the types of hunting vests you're likely to see while you shop:
Hog vests: Hog vests are the most protective type of hunting dog vest available since dogs that are set against wild boars are put in much more direct danger than dogs that are simply gun dogs or retrievers. Hog dogs have to be guarded against injury, but at the same time they can't be weighed down or hindered in their movement while fighting.


Upland bird dog vests: Upland bird dog vests are designed primarily for visibility and also for protecting the coats of bird dogs from being filled up with burrs and debris. These dogs break into thickets and other harsh brush that is often full of thorns and other sharp branches. Bird dog vests keep them from getting scratched and poked.


Reflective vests: Many hunting dog vests incorporate the same blaze orange material and reflective stripes that are used to help make hunters themselves more visible in the field. These vests are an especially good investment for hunting dogs that have a natural coloring which makes them easily mistaken for a coyote, deer or other wild animal.


Water dog vests: Water dog vests tend to be more focused on camouflage and heat retention than other types of hunting dog vests since water dogs are often required to be soaked with water for long periods. Without protection from the elements such as wind chill, this can leave them vulnerable to hypothermia.
Within these sub-categories, you'll usually also see some variation in vest thickness and material to account for climate. For example, the bird dog armors at Lion Country Supply are broken into multiple models for either cold or warm weather. This can help hunters choose the best hunting vest for their dog based on the type of hunting they participate in the most.
Choosing a Hunting Vest for Your Dog

When you're trying to narrow down what type of vest to get for your dog, there are several things you need to take into consideration before you start shopping. Here are just a few things you need to think about:


What type of hunting dog am I buying a vest for? This will determine not just the general size and fit of the vest you'll be looking for, but also the sub-category of vest you'll be searching.


How much money do I have in my budget for a hunting vest? With vests running from less than twenty dollars all the way up to two hundred dollars, the price range of available vests for hunting dogs is pretty wide. Knowing how much you're willing to spend can help you narrow your search significantly right out of the gate.


Does my dog need to be camouflaged? Duck dogs are forced to sit still for long periods until a shot is made, so they require camouflag. Flushing dogs, on the other hand, tend to wear vests that emphasize visibility to roaming hunters since their entire task is to scare birds into the air.


What kind of coat does my dog have? Shorthaired breeds are more vulnerable to cold and damp, but less likely to get snagged with brambles. Taking your dog's fur into consideration can help you choose a material that will keep it dry and untangled.


Will I need to hold or secure my dog? Many hunting vests come with additional handles to make carrying the dog around easier or slots for collar or handle rings, so these are accessories to look for if you plan on keeping a dog in training on a long lead rather than letting them run loose.


Is my dog at risk from their prey? Dogs used to hunt rabbits, deer, or other prey animals generally don't need armor or other protection, but bears used to hunt boar, coyotes, badgers, wolverines, big cats, or bears need additional armor to prevent deadly injuries if the dog comes face to face with their quarry.
By spending just a little time considering the type of hunting vest you need for your dog before you boot up a search engine looking for one, you can keep from becoming overwhelmed by the options available and can do a deeper dive into the specific type of hunting vest you need.
How to Measure a Dog for a Hunting Dog Vest
Once you've determined the type of hunting dog vest you need, the next step is to measure your dog for a vest. To measure your dog, you'll need a standard soft tape measure used in sewing or the type used to measure body circumference.
There are two main dog body types to take into consideration when measuring for a vest: deep-chested and standard-chested. A standard-chested would be a dog with a chest that is proportional to the size of its body, such as a labrador. A deep-chested dog would be a dog such as a Newfoundland or a bulldog. These breeds have a much broader chest and neck.
The two measurements you need to measure a dog for a hunting vest are the measurements of the neck and girth (the measurement around the torso at the widest point of the ches). Each vest's sizing measurement is slightly different, but the standard sizes of extra small through 2XL are usually marked in inches at the girth and neck as well. (Source: Turtleskin)
Accessories to Buy With a Hunting Dog Vest


A hunting dog vest is an essential piece of gear for hunters who work dogs, but there are several accessories that you'll also want to be on the hunt for if you're shopping for a vest. These accessories usually work well alongside a vest to help offer dogs added protection or dog handlers added convenience.
Here are just a few of the accessories you might want to consider buying to go along with your dog's new hunting vest:
Buying a hunting vest for your dog is only one piece of the gear that you might buy to help keep your best hunting buddy comfortable and safe. Hunting dogs are working dogs, and there are lots of accessories available that can help make their job easier.
Hunting Vests Are Worth the Investment
No matter what type of hunting you do with your dog, investing in a good hunting vest is worth the money. A hunting vest can protect your dog from accidental injury whie it also keeps them more comfortable and focused on the hunt.

Each type of hunter and their dog have slightly different needs. But there are enough hunting vests on the market that you should be able to find a perfect pick no matter what kind of hunting you and your dog do.
Content Disclaimer
The information contained above is provided for information purposes only. The contents of this Blog article are not intended to amount to advice, and you should not rely on any of the contents of this Blog article. Professional advice should be obtained before taking or refraining from taking any action as a result of the contents of this Blog article. VesteForPets.com disclaims all liability and responsibility arising from any reliance placed on any of the contents of this Blog article. 
Copyright Notice
These works are protected by copyright laws and treaties around the world. We grant to you a worldwide, non-exclusive, royalty-free, revocable licence to view these works, to copy and store these works and to print pages of these works for your own personal and non-commercial use. You may not reproduce in any format any part of the works without our prior written consent.
Copyright © 2022 Veste For Pets