There are several different kinds of materials that are commonly used for dog clothes. Whether they're homemade or bought from a pet store, dog clothes can be made with many fabrics suitable for either warm or cool temperatures.
There are advantages and disadvantages to all kinds of fabric used in dog clothing. These may change depending on if a person is buying the dog clothing retail or if they're trying to make it themselves. Below you'll find a list of some of the best suitable materials for dog clothes.
Polar Fleece in Dog Clothes

Polar fleece is a popular type of material used in dog clothes because of its warm nature. A synthetic material that is designed to mimic wool in texture and insulating ability. Polar fleece is constructed out of polyester.
Compared to other fabrics used in dog clothes, polar fleece is a relative newcomer to the scene. This fabric was invented in Massachusetts in 1979 by the outerwear companiesMalden Mills and Patagonia. This pile synthetic was made as a replacement for natural wool and its cheap manufacture made it a popular inclusion not just in dog clothes but in many jackets and coats for people too.
Here are some of the pros and cons of polar fleece in dog clothes (Source: Zop):
| | |
| --- | --- |
| Pros | Cons |
| Lightweight | Non-recycled polar fleece made of fossil fuels |
| Water-resistant | No temperature insulation once soaked |
| Machine washable | Highly flammable |
| Quick-drying | Can be damaged with high heat like clothing irons |
| Can be made of recycled materials | Generates microplastics (bad for environment) |
| Good for those with wool allergies | |
In dog clothes, polar fleece is seen most often in dog jackets meant to keep them warm in freezing temperatures. Here are a few of the most popular polar fleece dog jackets available on the market:
The fact that polar fleece is cheap, durable, and not patented means that it is freely available for people who want to make their own dog clothes. While it is most popular in dog jackets in either solid colors or plaid, it is available in many different shades and prints.
Leather in Dog Clothes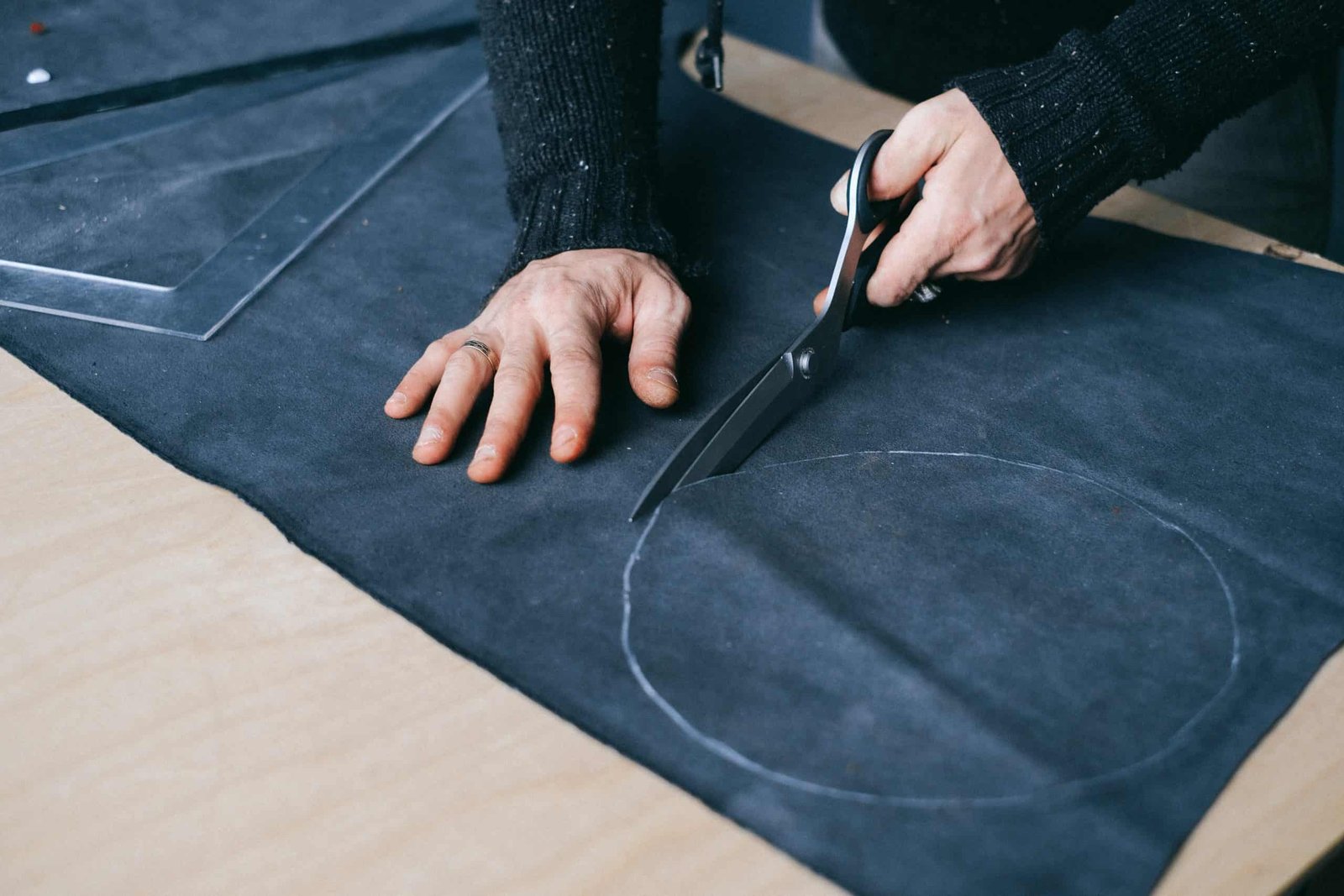 Leather is not as popular in dog clothes as dog collars and leashes, but there are still many positive qualities that leather has to offer as a clothing fabric.
Leather is one of the most durable fabrics in clothing, and it doesn't tend to retain odors or stains like other fabrics. It's a natural organic fabric derived from a renewable resource. There is also a synthetic version of leather known as faux leather that is popular in dog clothing.
In dog clothes, organic leather is one of the oldest fabrics ever used. Leather collars spiked with iron and armor designed to act as protection in battle served some of ancient Rome's war mastiffs to keep them safe in battle, and the tradition of dressing bloodsport and guard breeds in spiked collars persists today. (Source: Dog Mount)
Here are some of the pros and cons of leather in dog clothes (Source: Quora):
| | |
| --- | --- |
| Pros | Cons |
| Cleans easily | Doesn't keep the dog warm without lining |
| Doesn't retain odors | Difficult to work with while sewing |
| Durable and wears in a pleasing way | Not vegan |
| Can be matched with leather collars/accessories | Expensive |
| Classic, sophisticated look | Needs to be maintained to avoid drying out |
| Can be decorated with leatherworking | |
| Becomes softer over time | |
Leather is usually seen in dog clothes as either part of accessories (collars and leashes) or as part of an authentic bomber/biker jacket. For motorcyclists who carry their dog around as a constant companion, putting them in a leather jacket just like their owners can help complete their tough-guy look.
Here are some of the most popular leather dog clothes available on the market:
Authentic cow leather is found a lot more often in collars and leashes than it is in dog clothing. This is because traditional leather is expensive and requires oiling and other maintenance, while faux leather provides the appearance of leather without the need for extra care. Both organic cow leather and faux leather can be somewhat difficult for those who sew to work with.
Plush in Dog Clothes

Plush is a type of fabric that has a soft, nappy texture and is made of synthetic fibers like polyester. Because of its cuddly feel and its varied pile, plush is used in dog clothing as well as comfort objects like dog toys and blankets.
While plush comes in many colors and is a popular inclusion in dog clothing, it is also not environmentally friendly since it's created from synthetic fabrics made of petroleum. This means that this fabric is not biodegradable.
Here are some of the pros and cons of plush in dog clothes (Source: Healable):
| | |
| --- | --- |
| Pros | Cons |
| Soft texture | Artificial fabric |
| Warm and insulating | Not environmentally friendly |
| Varied colors and designs | Can be moderately expensive |
| Elastic and conforms easily to different shapes | Not vegan |
| Works well as a lining fabric | Not durable enough for outerwear |
One of the major benefits of plush is that it comes in lots of different prints. This makes it a good fabric for those who want their dog's clothing to make a fashion statement as well as serving the practical task of keeping the dog dry and warm. It's also a great fabric for holiday dog clothing and costumes.
Here are some of the most popular plush dog clothes available on the market:
The somewhat delicate nature of plush compared to more durable fabrics means that it is better off as a fabric for indoor dog clothing or as the lining in dog jackets or coats. Since it's usually more difficult to clean than other fabrics too, it is better for dress-up dog clothing than casual wear.

Denim in Dog Clothes
Cotton denim is one of the most versatile fabrics in clothing, and it is popular in dog jackets because it is durable and resists shrinking in machine washing. Like leather, denim is also a fabric that tends to look good even after it begins to tatter slightly and age.
Like many other thicker fabrics, denim can be difficult to work with while sewing dog clothes compared to thinner fabrics like polyester and cotton. (Source: Merchology)
Here are some of the pros and cons of denim in dog clothes:
| | |
| --- | --- |
| Pros | Cons |
| Durable material | Not a good insulator for warmth |
| Shrink-resistant | Not water-resistant |
| Available in many different dyes/washes | Becomes stretched out with use |
| Classic aesthetic | Hard to decorate compared to other fabrics |
| Cool fabric for warmer climates | |

Even though denim isn't as common in retail dog clothes as some other synthetic fabrics, it is popular for use in dog clothing trim even when the base material is made of a different fabric. Denim lends any dog outfit a casual, sporty look that any breed can pull off.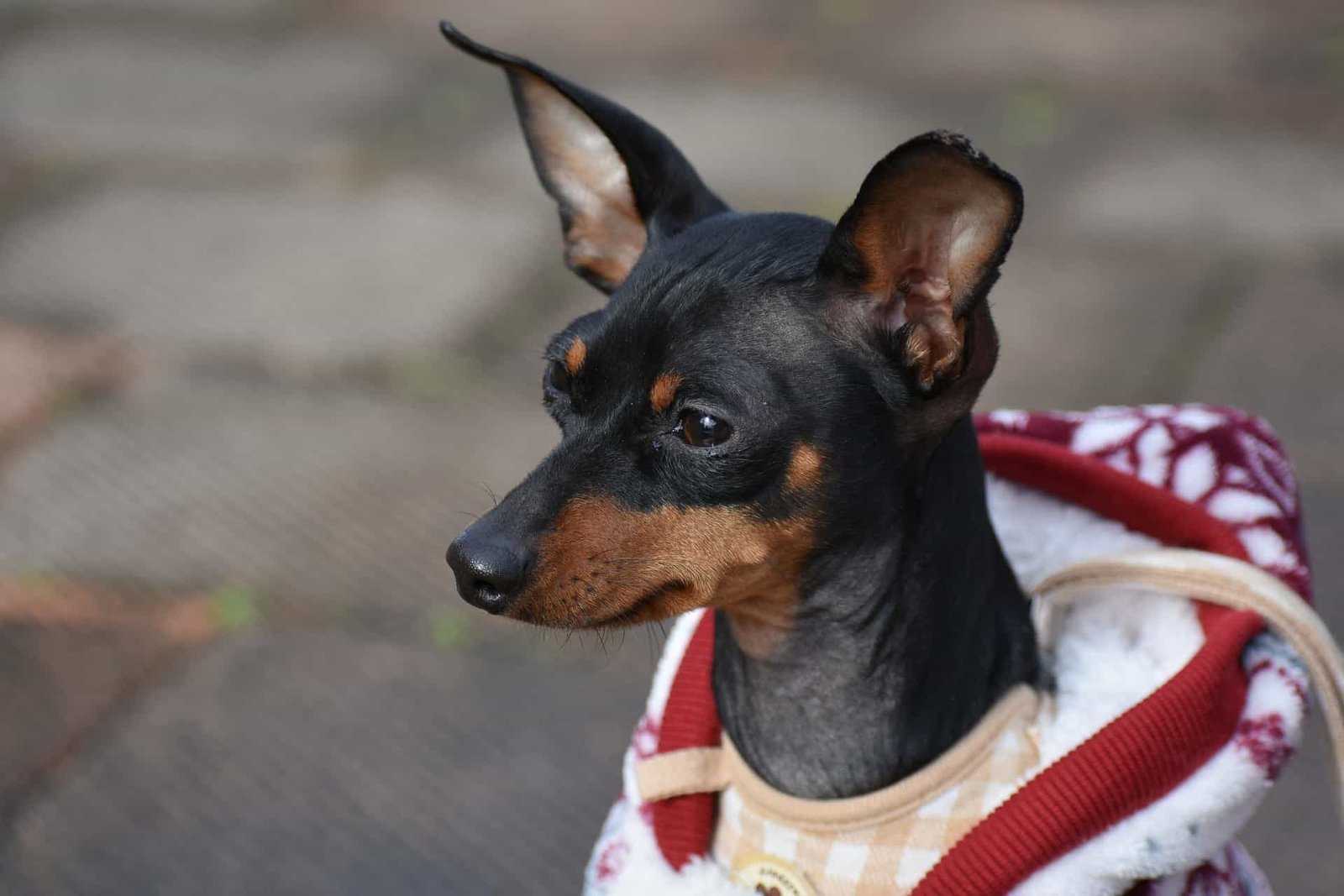 Here are some of the most popular denim dog clothes on the market:
Denim isn't as warm or waterproof as synthetic materials designed for cold weather dog outerwear, so denim dog clothes are a better fit for temperature or warm climates. These clothing options are more for style than for warmth, though many denim dog clothing options are still relatively comfortable for dogs to wear.
Tweed in Dog Clothes

Tweed is a tough, rough, tight-knit textile that has been historically associated with upper-class British society, but centuries later it's still one of the most popular fabrics used in outerwear for both humans and dogs. This fabric comes in several different colors and prints. An especially popular print in tweed is a black and white print known as houndstooth.(Source: Laneiri)
Because tweed is a durable fabric, this makes it great for dog jacket and coats, even for dogs that participate in outdoor sports like hunting. Tweed dries quickly and is warm even when it's wet, which makes it great for water dogs.
Here are some of the pros and cons of tweed in dog clothes:
| | |
| --- | --- |
| Pros | Cons |
| Breathable fabric | Casual wear only |
| Organic textile | Needs to be dry-cleaned |
| Resistant to dirt | Can shrink easily with improper washing |
| Durable material | Limited styles and colors |
| Good insulation for warmth in cold weather | |
| Doesn't need washing often | |
Tweed may be considered casualwear for both humans and dogs these days, but its historical associations with the upper crust of society means that a touch of tweed in dog clothing can make any dog look a little more high fashion.
Here are some of the most popular tweed dog clothes on the market:
Fire Hose Dog Jacket by Duluth Trading Company: While this jacket is manufactured out of tough cotton tweed on the outside, it is lined on the interior with a plush synthetic sherpa fleece for added warmth. These jackets contain four pockets so that dogs can help carry their weight on walks and hikes.


Ruff Houzin Green Tweed Dog Coat: This dark olive green coat features accent stripes of blue and orange stitching for a classic retro look. Additional features include snap attachments and a corduroy collar. The jacket is lined with satin and is machine washable for convenience.


Dover Saddlery Green Tweed Dog Coat: This green tweed dog coat trimmed with brown leather is as traditional as they come. An advantage of this coat is that it's compatible with most harnesses and leashes, making it a great coat for either wearing out in the field or just around the bock for a walk.
Tweed is one of the more expensive fabrics used in dog clothes, but it's also one of the most durable. This makes it great for dogs that love accompanying their owners into the great outdoors, even in the most inclement weather.
How to Choose a Suitable Material for Dog Clothes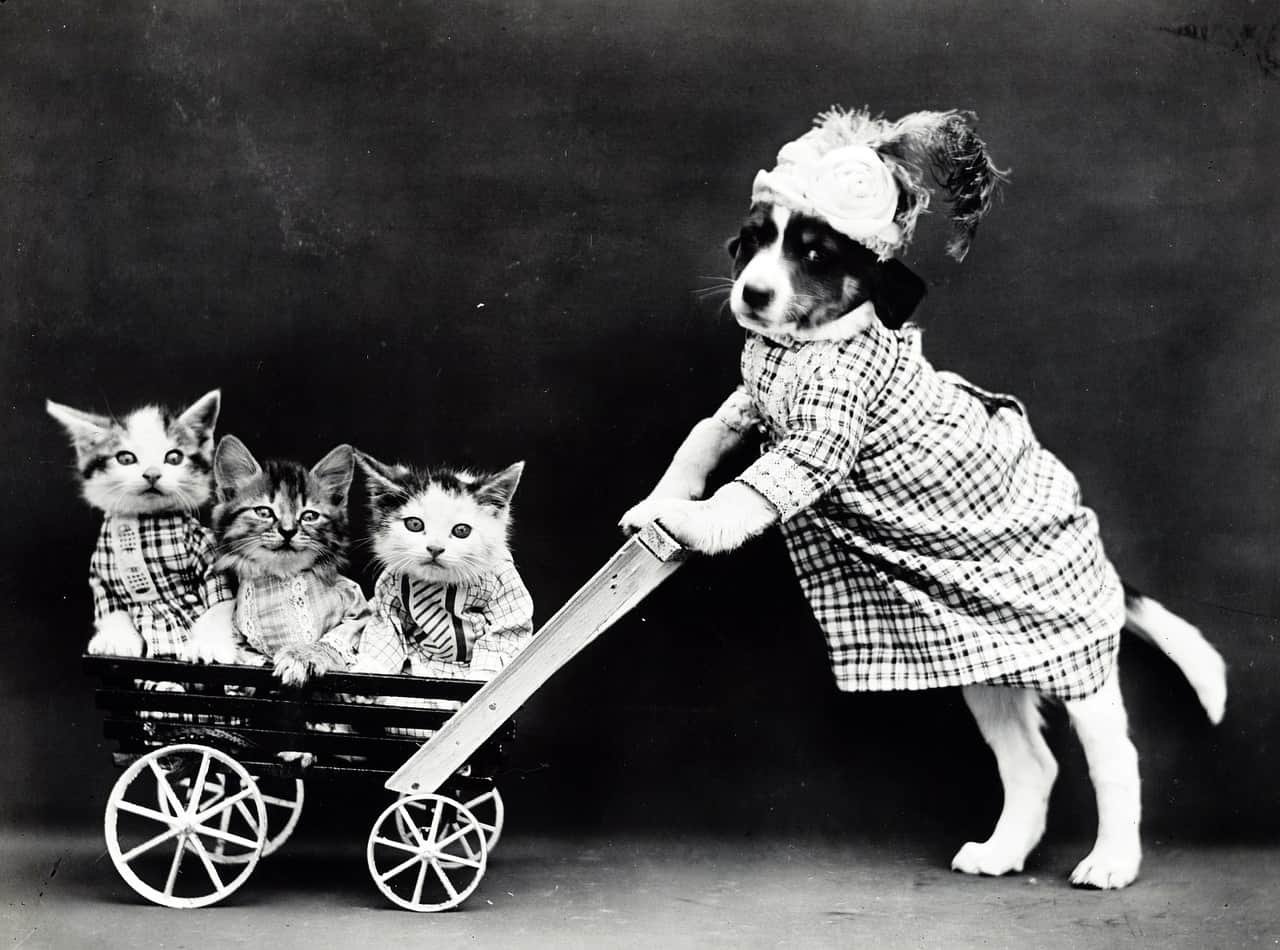 If you're shopping for dog clothes online or you're even looking into creating some custom dog clothes with a sewing machine, there's a few different things you'll need to look at when you're trying to decide which material would be most suitable for the dog clothes you want. These are some questions to ask yourself:
What climate will my dog be wearing the clothes in? Cotton and denim are better fabrics for warm temperatures, while wool, polar fleece and tweed are better for cold weather. Another trait of fabrics to look at is how thick they are—the thicker a fabric is, the better it will insulate but the less breathable it will generally be.


Will I have convenient access to dry cleaning? Some fabrics such as tweed can't be machine washed, while others will need to be washed carefully to avoid shrinking or damage in the wash. Taking shrinking into account is especially important if you're planning on sewing custom clothes for your dog since shrinking can make them unwearable if you don't account for it.


Will the clothes be worn indoors or outdoors?Some fabrics in dog clothing such as velvet and plush are better for indoor clothing that is used more for costumes than as real protective gear. For dog coats and jackets that are meant to be used in the field, tougher materials such as tweed and leather are required.


What are the measurements?Whether you are buying dog clothes off the rack or you're trying to make some from scratch, having the measurements of your dog are measured at the chest, the dog's length, and the width of the neck.
Gathering the above information before you start shopping for dog clothes or looking at clothing designs can help you narrow your search down and make looking for dog clothes a lot easier.
Why Get Dog Clothes for Your Dog?


Some people may think that no matter what material you're using, there's no good reason to put clothes on a dog. Since most dogs come with a built-in fur coat designed to insulate them from the heat and cold, it's a reasonable question. But there's actually several great reasons why someone might put their dog in clothes:
Hairless and shorthaired breeds: Many people keep dogs that were originally bred in warm climates in cold regions of the world, and these dogs can suffer severe discomfort if they aren't provided with additional protection from the weather.


Fashion: Many of the small toy breeds that dog owners dress up for fun are bred to be coddled and played with, and many of them actually enjoy being fussed over by their owners in this way.


Less shedding: Some breeds of dog shed more than others, and one way that owners can help cut down on shedding in the house is to keep the dog in a shirt. While this doesn't keep the dog from shedding entirely, it does help reduce the amount of shed fur that is distributed throughout the house and keeps it inside the dog's shirt instead.


Older dogs: Older dogs are often more vulnerable to the effects of cold weather, which can cause them additional pain as the result of arthritis or other age-related ailments. Putting sweaters on older dogs can help keep them warm and comfortable as their bodies lose the ability to successfully moderate their temperature.


Outdoor work: Working breeds such as hunting and herding dogs are sometimes forced to work in cold or inclement weather. To keep them in top condition, these dogs can often benefit from a jacket to help them stay dry and warm.


Allergies: Some dogs have sensitive skin and are susceptible to hives and other skin-related allergy reactions when they're in contact with carpet, grass, or other materials. Clothing such as shirts and even booties can be a good way to protect dogs that are prone to allergies.
There are plenty of good reasons why a person might want to put clothes on their dog. While some people only do it every once in awhile for fun or holiday photos, for others it's a practical necessity.
Making Your Own Dog Clothes

For dog owners with a crafty side, making your own dog clothes allows you to choose freely from all the different fabrics available to choose the perfect print for your pooch. Even just knowing a few basic dog clothing patterns can yield an entire wardrobe of outfits when the person making them throws in different combinations of fabrics and accessories.
Making homemade dog clothes requires some basic sewing supplies such as a sewing machine, sewing needles, thread, and other sewing accessories. Dog clothes can also be crafted through crochet or knitting with yarn. Even just accentuating your dog's look with different custom bandanas can give your dog some fashion and flair.
Creating homemade dog clothes is a great way to experiment with fabrics that you don't typically see dog clothes in. For example, the tweed options for dog clothes are relatively limited in color and style, but finding alternative tweed patterns online allows crafty dog owners to create a custom tweed coat that is sure to inspire onlookers.
Below you'll find some simple patterns for making your own dog clothes that you can use to expand your dog's wardrobe:
There Are Many Different Materials in Dog Clothing

With dozens of different fabrics being used in dog clothes, there's no real way to say that one material is more suitable than another. There is no universal fabric that is most suitable for making dog clothing. But by knowing which materials are best suited for what occasions, dog owners can have a much better chance of picking out the right outfit for their best friend.
Content Disclaimer
The information contained above is provided for information purposes only. The contents of this Blog article are not intended to amount to advice, and you should not rely on any of the contents of this Blog article. Professional advice should be obtained before taking or refraining from taking any action as a result of the contents of this Blog article. VesteForPets.com disclaims all liability and responsibility arising from any reliance placed on any of the contents of this Blog article. 
Copyright Notice
These works are protected by copyright laws and treaties around the world. We grant to you a worldwide, non-exclusive, royalty-free, revocable licence to view these works, to copy and store these works and to print pages of these works for your own personal and non-commercial use. You may not reproduce in any format any part of the works without our prior written consent.
Copyright © 2022 Veste For Pets