It is common for a baby to grow out of clothes more quickly than you expect. Most people, maybe even you, discard those baby clothes. What if, instead, you save yourself a lot of money by repurposing them and using those clothes the baby has outgrown to give your dog a new wardrobe?
To determine what size the baby clothes need to be to fit your dog, you need to measure your dog's body dimensions and know your dog's weight. The baby size guide will give you an idea of the weight requirements so you can make the needed alterations to fit your dog's legs and tail.
Creating dog outfits with your baby's clothes can help you put your creativity to great use. There are simple techniques that you can use to repurpose those clothes to fit your dog perfectly. If you want to learn how to do it, continue reading to find out.
Choosing Ideal Garments
Putting clothes on any dog can be the cutest thing to do. Using baby clothes on your dog is a creative way of selecting garments that would look and feel good for your dog. A great way to enhance any outfit is to select baby clothing that can look flattering on your dog.
The most used items for smaller dogs are:
Dresses
Onesies
Pajamas
Sweaters
The most used items for bigger dogs are:
Being able to determine the correct size of baby clothes for your dog can be simple. You will have to remember that baby clothes are smaller, so they are more appropriate for smaller dogs.
When choosing the right clothes, you must also consider the weather. If there is cold weather, you will most likely want to have warmer clothes. Warmer clothes can be bulky and, at times, can be uncomfortable for your dog.
If there is warmer weather, you will want to put something that is a lighter-weight fabric on your dog. Excessive heat will dehydrate your dog, and in some breeds, it may lead to heatstroke. Lighter clothes can help protect the dog's hair from any outside dirt. They can also be fashionable since you can add designs and decorations to any outfit.
Dog Classification
Dogs can be categorized based on their size. There are a wide variety of dog breeds that can fall into these different categories:
Toy, Small
Medium
Large
Extra-large
When you are trying to select baby clothes for your dog, you must know their accurate size. The dog's size acts as a guide so you know which clothes will fit. Since baby clothing sizes are sorted by the baby's number of months, it can be challenging to equate that to your dog's measurements.
Here is a list of a few popular breeds and their classification based on their weight.
Small dogs, including miniature, toy, or teacup dogs, range from 2-22 pounds. Some of the best-known breeds that are considered to be small dogs are:
Beagle
Cavalier King Charles Spaniel
Chihuahua
French Bulldog
Maltese
Papillion
Shih Tzu
Yorkshire Terrier
Medium dogs normally range between 24-57 pounds and include some of the following breeds:
Border Collie
American and English Bulldog
American Cocker Spaniel
Dalmatian
Large Dogs weigh 59-99 pounds, and even though they might not look like large dogs, they are considered large dogs:
Boxer
German Shepherd
Golder Retriever
Labrador
Rottweiler
Extra-large dogs weigh 100lbs or more and are also known as giant dogs. This breed has a strength that other breeds do not have:
Bernese Mountain Dog
Great Dane
Great Pyrenees
Mastiff
Saint Bernard
The best part of learning this information is that you are connecting more with your dog. At the same time, you will have the opportunity to add part of your personality to the clothes that you plan to have your dog wear.
Make It Affordable
It is common to see dogs wearing baby clothes because it can often be more economical. At times the price tag on dog clothes can be excessive, and most of the time, dogs don't want to wear them. If you're concerned that this may be the case, you can go with the option that will not break the bank.
Making a smart and affordable purchase for your dog, or repurposing what you have at home that has been used, can allow you the luxury of having more outfits. There are two ways to find a good bargain when looking for baby clothes:
Keep baby clothes that you no longer need for your dog: If you have baby clothes, you know that babies will outgrow them eventually. This option can be the least expensive route to take, but it is not the only option.
Purchase secondhand baby clothes at a lower price: If you choose to go shopping for baby clothes, it is suggested to purchase gently used clothes because they will be cheaper than buying dog clothes.
Whichever route you decide to take, you will need to wash the clothes before putting them on your dog. Other clothes might contain strong perfumes or detergents that can irritate your pup's skin. The best way to wash any clothes for your dog is to use chemical-free products.
The bond that dogs help create is priceless. It is a way of having an irreplaceable friend that provides companionship and loyalty. It is reasonable to consider your pet as a member of your family because of the strong connection you two have created.
Choosing the Right Clothes
Normally you want what's best for your dog, and the way to do that is by ensuring that his health and well-being are always a priority. Dogs are one of our best friends, and the bond that a pet creates is irreplaceable.
Knowing your pet's needs can facilitate the decision in choosing the garments that you will want to put on your dog. It might not seem important to have the appropriate clothes for your dog, but purchasing or recreating dog clothing can be beneficial in the following ways:
Make the dog feel comfortable with what they are wearing.
Keep the dog warm or cool during changing weather conditions.
Help maintain good hygiene by providing a layer of protection with the clothes.
Have clothes that fit properly
Provide the dog a level of security by having your scent on their outfit
Measure Your Dog
You might think that there are standard sizes that will fit a dog based on their size, but dogs come in different shapes and sizes, as you know. Some standard clothing sizes are too uncomfortable for your dog to wear or just too expensive to purchase.
If you want to achieve the best fit, you need to begin by taking your dog's measurements. This way, if the selected baby clothes are too large, you can adjust the outfits with the correct measurements.
Getting the correct measurements can give you an idea of what baby clothing size will be the closest fit for your dog. You can begin by taking measurements of these parts of your dog's body:
Neck: Place the measuring tape on the center of the neck
Chest: Place the measuring tape on the widest part and add two inches
Back: Measure beginning at the base of the neck to the base of the tail and add 2 inches
Legs: Measure the circumference and length between the legs.
Once you have your dog's measurements, you can measure the baby clothes you have or are planning to purchase to make sure that they can be the right fit.
Adjust the Garment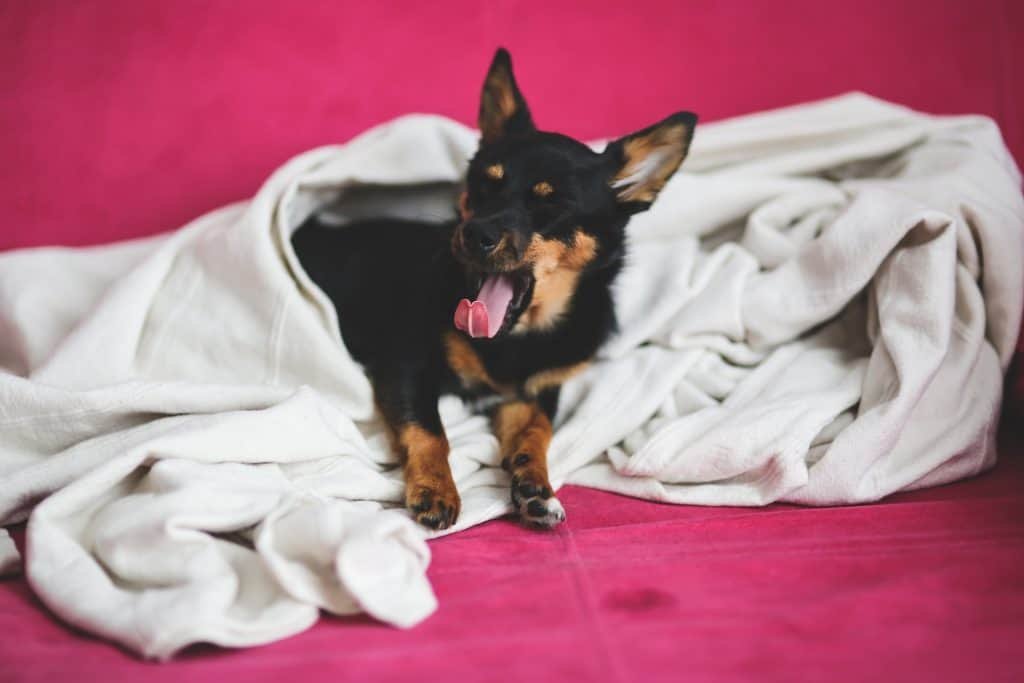 Your dog's measurements can be a great guide toward adjusting any baby clothes you wish to put on your dog. A baby onesie is not going to fit any dog unless you make alterations. Some of these alterations can be minimal, while others can result in a total makeover.
In this case, the focus will remain on showing you the simplest way to create beautiful and practical pieces that your dog will be able to wear easily.
The best way to measure baby clothing is by laying the item flat on a surface and marking the above-listed measurements with a fabric pencil.
Mark Measurements
Use the dog's measurements to mark the desired length of the item. Normally, you will mark shirts or onesies above the tail on the top and in the center of the belly at the bottom.
Remove Excess Fabric
With the marked measurement completed in the previous step, you now have a guide to cut the fabric.
Cut out the garment's extra length, making sure that you are not leaving long sections on the tail.
Mark The Legs And Tail
Now that you have the garment cut to the desired length, you will begin by outlining the legs and tail with the fabric marker.
Mark the fabric for the legs and tail of your dog:
Using the measurements you took earlier, mark the space between the dog's legs to ensure you know where you will be cutting out the holes for your dog's legs. You will do the same to have the tail and bathroom area exposed.
Put the garment on your dog to see if the holes need to be cut out bigger. This will depend on the size of the dog.
Seal The Borders
There are two ways that I recommend sealing the borders of the cut-out fabric:
Hem and sew the cut fabric edges with either a sewing machine or a needle and thread.
Fold the edges inward and glue the cut fabric with fabric glue to reinforce the edges, so they don't rip easily.
Whichever technique that you decide to use, your results will be as good as if you purchased original dog clothes, but now they have your distinctive fashionable touch.
Choose The Correct Size
Repurposing baby clothes can be better than discarding them. What a better purpose than to use those clothes to give your dog outfits that will give them comfort and some fashion.
Choosing the right baby outfit for your dog can be easier than you think. Once you have followed the proper steps to measure your dog, you will be able to figure out which baby clothing size will fit properly.
There are many ways to know whether baby clothes will fit your dog, but the simplest ones will be mentioned in this section.
Using Your Dog's Measurements
One way to know the correct baby garment size that your dog can wear is by using your dog's measurements and the baby clothes' measurements to make sure the outfit will not be too tight.
The way that you can determine the appropriate size is by using these simple steps:
Compare all measurements to make sure that the baby outfit is not too tight or too loose.
Outline areas that need to be altered, such as the collar, arm entryways, and leg openings.
Cut outlined sections from the garment
Remember that you have your dog's measurements already, which will help once the baby clothes have been measured.
Using A Weight Guide
Another option that can help determine which baby clothes will fit your dog is by using the dog's weight to find the closest fitting baby clothes. Baby sizes provide an estimate of the weight that the baby needs to be to be able to fit into a certain size. The same process will be followed when searching for your dog's clothes.
You can determine the appropriate size by following the provided size chart as a general guideline:
7 pounds or under will fit into a Newborn size
7-12-pound dog will fit into a 0-3 months baby size
12–16-pound dog will fit into a 3-6 months baby size
16-20-pound dog will fit into a 6-12 months baby size
20-28-pound dog will fit into a 12-18 months baby size
If you have a heavier dog, you will need to use toddler or children's clothes instead to create an ensemble that will fit your dog's body type.
Calculating the measurements and weight of a dog will be the closest that you can get to get the most accurate size of baby clothes. The sizes normally vary slightly based on the brand or designer because they do not use standard pattern sizes to create baby or children's clothes. Some designers choose to create looser fits, while others like the snug look.
Modify The Outfit
Why not spend less money helping your dog look better? The enhancement in a dog's look does not have to be complicated. Instead, it can be fun and entertaining.
Using baby clothes will allow you to save money and give your dog the comfort that dog clothes will not give.
You will need to have the following tools to complete this task:
The trick to making baby clothes fit your dog is to keep the fabric away from your dog's bottom area. There are many ways that you can modify this section to make it suitable for your dog.
If you chose a pajama onesie, you would have to cut between where the garment covers the center of the legs to allow your dog to perform their bathroom duties freely.
If you chose a onesie, you would have to cut out the bottom part of the outfit where the buttons or snaps are to allow your dog to have free bathroom usage.
Once you have done this, you have the option to sew the chest area of the outfit to make it fit a little more snugly without causing restrictions for your dog's movement or breathing.
Enhance The Outfit
There are dog owners that like to make a fashion statement with the clothes that their dogs are wearing, and there are owners that like to keep it simple. Either way, there are many things that you can do to enhance your dog's outfit once you have completed the needed alterations.
This is when you can let your creativity flow and let it reflect on the clothes that your dog will be wearing.
Some of the most common enhancements that you can make to personalize your dog's outfit are as follows:
Add borders
Add a bowtie
Add a skirt
Add color
Draw any picture with fabric markers
These optional enhancements can be completed by using fabrics or decorations that you no longer need. It can be a budget-friendly option as well as a helpful way of making sure your dog always has the most comfortable clothes.
Things To Avoid
Making dog clothes out of baby clothes can seem a little plain at first sight. That is because baby clothes are made with the intent of making them comfortable and not fashionable.
When you modify or find clothes that fit your dog the way you want, the next step would be to decorate it. If you want to make a striking outfit, the usual way to do this is to add embellishments to capture attention.
It is important to remember that dogs like to chew on things, and clothing would not be an exception.
You want to avoid adding embellishments that are choking hazard:
Dog clothes should not only look great, but they should feel comfortable. If you add excessive amounts of decorations, it can cause discomfort to the point that your dog will not want to wear any clothes.
Final Thoughts
Making dog clothes by using baby clothes does not have to be hard. You do not need to be crafty or have sewing skills to create something great. Determining the size of baby clothes that will fit your dog only requires you to know your dog's measurements and weight.

If dealing with measurements turns out to be confusing, choose an outfit by following the weight guide. After a few tries, you will know what will fit your dog.
Content Disclaimer
The information contained above is provided for information purposes only. The contents of this Blog article are not intended to amount to advice, and you should not rely on any of the contents of this Blog article. Professional advice should be obtained before taking or refraining from taking any action as a result of the contents of this Blog article. VesteForPets.com disclaims all liability and responsibility arising from any reliance placed on any of the contents of this Blog article.
Copyright Notice
These works are protected by copyright laws and treaties around the world. We grant to you a worldwide, non-exclusive, royalty-free, revocable licence to view these works, to copy and store these works and to print pages of these works for your own personal and non-commercial use. You may not reproduce in any format any part of the works without our prior written consent.
Copyright © 2022 Veste For Pets
Sources
https://wprebecca.com/what-size-baby-clothes-fit-my-dog/
https://www.thriftyfun.com/Making-Dog-Clothes-Out-of-Baby-Clothes-2.html
https://www.youtube.com/watch?v=ysHS4_zR1OI